Rewards
Thank you for your support in January! With your help I was able to create:
3 Art Packages
Companions | 4k wallpaper, 3 twitter banners, PSD, timelapse video
Lighting study | PSD, PNG, timelapse video
Postcards | 4k wallpapers of Anduin, Jaina and Meerah 
+ Photoshop brushes
Plus:
New designs for my Etsy cards & stickers
8 Wooden charm designs
Revendreth enamel pin + backing card mock-ups
Starlight rose acrylic mini-pins or studs
Art for Riley's daycare journal
Card Collector Postcard:
January postcard: Jaina
January bonus postcard: Meerah
(Anduin is a February reward)
Backside: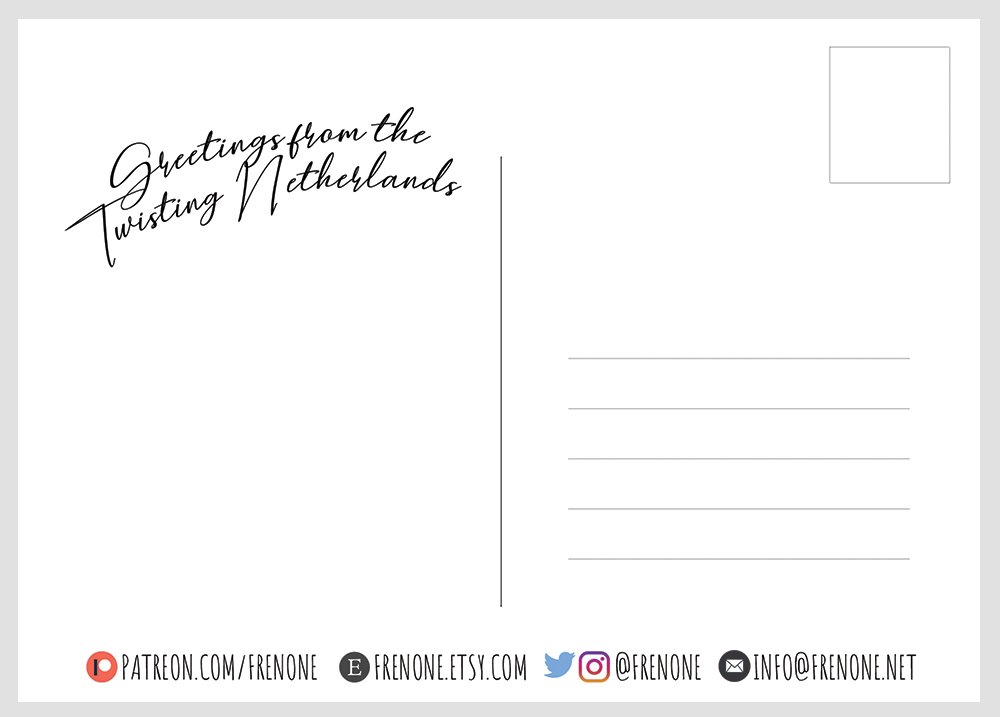 Collector Goodie Box:
(see Trello for upcoming rewards)
Due to the recent postage increase for international bulky letters and small packets, this tier has been changed to a bimonthly goodie box: combining the merch of two months into a single shipment. You can still expect to get the same amount of goodies.
In January & February the following goodies went into production:
Commemorative 1″ button badges (x3) of Jaina, Anduin and Meerah
3 Postcards of Jaina, Anduin and Meerah
Silver-plated Revendreth enamel pin and custom backing card
Starlight rose 0.5″ acrylic mini-pin or stud earrings
2x Wooden charms (Wolf, spellbook, bow, leaf, shield, skull, cleric/priest or D20)
Limited edition purple charm (Owl steward, Ardenweald moth or Nightfae wing)
Goodies that are delivered before February 29, will be included in your first box of 2020. Goodies that are delayed will be part of March/April's box.
Reward Links & Passwords
You can download your tier rewards with the password that has been sent to you via Patron Message. The download link expires on March 14, 2020. To download a ZIP-file, use the second link.
If the password isn't working, try typing it instead of copy-pasting. That should do the trick ?
If your PC tells you the zip-file is empty or corrupt, please try downloading it again in a few hours or the next day, to be sure all the files have finished syncing. If your internet connection is unstable, the file may be too big and the download could fail. If that's the case, it's best to download the individual files.
Digital Art downloads
$5+: download the ZIP-file or Individual files* (see Patron Message for password, link expires March 14)

*Download the the individual files if your connection is slow!
Etsy!
My next opening will be by the end of this week or early next week. I still have a lot of work to do for my new original Midnight Collection, so these won't be listed at the same time as the reopening, but probably 2-3 weeks later. $2+ Patrons will be able to pre-order the Midnight Collection 1-2 days before listings go live on Etsy.
This week I'm working on the remaining Azerite pendants (last batch!), a couple flawed Hearts of Azeroth, more Necrotic, Kyrian and Shattered Sky crystals and the remaining Ardenweald pendants. I also have thinner (3mm) leather necklaces available as an addon (instead of gold/silver/bronze-plated chain necklaces).
~
Thank you so much for your support!