Art challenge
April art challenge (not a contest):
It's Spring! So this month's art challenge was to design a cute little animal with a flower crown! My favorite submission is the flower fox from @Ashkeri_. I made this tauren chibi: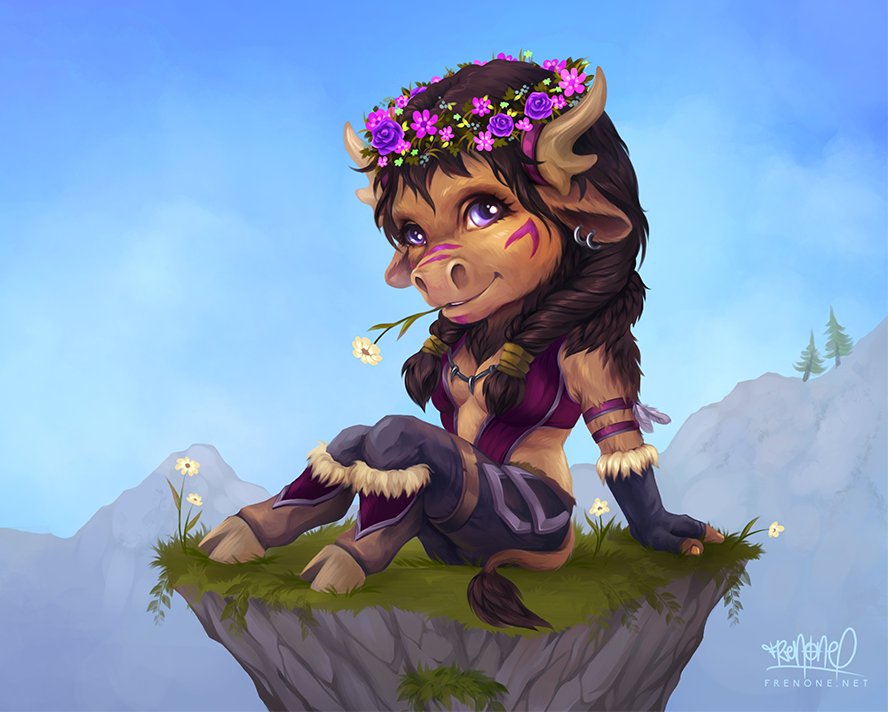 May's art challenge is to draw a mermaid for #MerMay! You may draw, paint or model your creation digitally or traditionally. It's not a contest, so if you want to deviate from the subject, feel free to do so! These challenges are intended to inspire & motivate you to finish a work of art in 30 days. You can share your finished creation here:
On Discord in the art-challenge channel
On Patreon on the Community feed
On Twitter (tag me @frenone if you like)
Rewards
Thank you for your support in April! With your help I was able to create:
5 new 4k wallpapers: Dark Iron Dwarf | Tauren chibi | Varian | Yrel | Art nouveau
7 new twitter banners
1 new coloring page (+ 4 old ones)
 5 new process videos
2 step-by-step's process descriptions
1 process gif
3 PSD's
2 playing cards: Varian and (holographic) Yrel
Signed print of the Highmountain Tauren chibi (the Dark Iron dwarf lady print will be included next month)
Brushpack I've used for the Dark Iron Dwarf and Tauren chibi
Milestone reward: Brown kraft paper bookmark, with gold ink and hand-embellished with gold foil
Reward Links & Passwords
You can download your tier rewards with the password that has been sent to you via Patron Message. If the password isn't working, try typing it instead of copy-pasting. That should do the trick 😉 The download link expires on June 14, 2018. (March patrons remember to download your rewards here before May 14!)
A zip-file is located within the folder. It may not be visible right away (or say 0 bytes for a while) until it finishes syncing.
Digital Art downloads
Physical Goodies
April rewards will be shipped on or before May 8.
$15: Best Fren gold-plated hard enamel pin  (1.25″) + Kraft paper bookmark
$25/35: signed 20x30cm print (Highmountain Tauren chibi), Varian and Yrel playing cards + signed 21x14cm prints
$50+: all of the above + 5″x9″ cosmetic bag / zipper pouch with Lightforged Draenei art.
Thanks for your support!
Shop coupons
All patrons have received a coupon code for a discount on the "Best Fren" & "Invincible" Enamel Pin pre-orders. The "Best Fren" pin is also a reward for the $15 and $50 tiers (not $25-35). These pins will be available publicly once the Patreon rewards have been shipped.
Shop link: frenone.net/store.